Welcome the first of an occasional club members' bulletin about all things green and accessible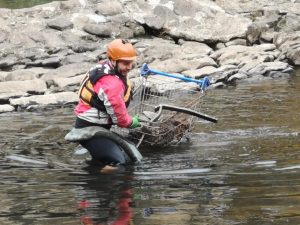 River Clean up – Saturday 2nd April, 9.30 – 12.00
A chance to clean up where we paddle. Meet at the clubhouse and we'll organise small groups to clear rubbish and cut back bushes to make our get on easier.
Gloves and bin bags provided, plus safety kit for those on the river or riverside. Tea/coffee and biscuits will be served. You'll need either paddling kit for being on the river or wellies and old clothes for the riverside.
We're collaborating with local groups LitterfreeSB and Calder Future who'll also have volunteers litter picking on the day.
Please book on through the HXCC website so we know who to expect.
Watery environmental action in the valley
Slow the Flow are a fantastic volunteer organisation who have been working in Calderdale since the 2015 floods.  They are developing an understanding of how, why and where water flows in the catchment and using natural flood management approaches to slow the flow of water. After a rain storm if the water runs off the hillsides more slowly then there is less likelihood of flash flooding. They are also helping to improve river water quality by reducing soil erosion and the frequency of sewage discharges into the Calder. They organise practical volunteering mornings on the first and third Sundays of the month, meeting at the Midgehole Carpark, Hardcastle Crags at 9.30am. Learn to make leaky dams, attenuation ponds and plant trees – lots of fun in the woods! https://www.facebook.com/slowtheflowcalderdale
Access (or not)
"Of the 42 700 miles of river in England, we have the right of access to 1 400 miles, just 3%. In England if you're by a river, on a river or in a river, there's a 97% change that you're not allowed to be there"
The Book of Trespass – Crossing the Lines that Divide Us by Nick Hayes (2020).
A fascinating 'must read' book that charts (through the entertaining trespassing adventures of the author) how we've lost the right to set foot or boat on 92% of our land and 97% of our waterways.
A good preparatory read for some watery trespassing perhaps? Extinction Rebellion are encouraging everyone to do a bit of trespassing on 24 April which is the 90th anniversary of the 1932 mass trespass on Kinder Scout. Five men were jailed for their role in organising this trespass. Their crime? Walking on a hill where they were not supposed to. This was part of the story and pressure that ultimately led to the establishment of the Peak District National Park in 1951.
Other snippets:
Steve and other club committee members are meeting up for a Calder River walk and chat with Andy Bray, Catchment Development Manager from the Calder Rivers Trust. The Trust helps protect and improve rivers across the Calder Catchment and are involved in a wide range of projects focussed on water quality, biodiversity, recreation, access and wider environmental issues. We'll discuss with Andy opportunities for the club to become more involved in their work and for the Trust to support the club.
We're also attending the upcoming meeting of British Canoeing's 'Clear Access Clear Waters' initiative. It will focus on how clubs can raise the profile of access and environmental issues within their communities.
Reports back from these two meetings in the next bulletin.
Do drop me a line about any environment or access related things you'd like to promote, share or get involved in.
Steve Smith – Access & Environment committee member –  environment@halifaxcanoe.org.uk