Summer Club Nights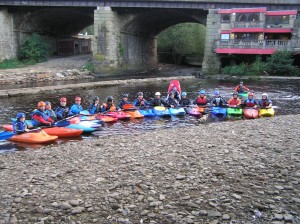 During the summer (April – September) Coaching session take place on the river on most nights of the week. These are available to any club members and for all levels of ability. Coaching sessions for both juniors and adult are led by the club's BC qualified coaches.
Sessions make use of the flat and white water facilities at club to develop paddlers skills or progress towards different awards.
Younger members are encouraged to participate in our junior groups – to get experience of different forms of canoeing, learn new skills and work towards the PaddlePower and other awards. However, canoeing is an ideal activity for families to do together so we encourage the whole family to get involved.
Experienced paddlers can usually be found playing on the various drops on the white water course.
We also run beginner's courses on the river in the summer (with separate courses for juniors and adults). These introduce people to the basics of canoeing and lead to a test for the British Canoeing One Star Award (check the Events list for details and dates).
We are also encouraging paddlers to have a try at different canoeing disciplines and to have a go at local competitions. Click here to find out more about different disciplines in our sport.
Winter Club Nights
In the winter months (October to March), the club runs pools sessions for juniors and adults at a local pool. On these sessions, beginners can get to grips with the basics, while established paddlers can perfect their Eskimo roll's and other skills in the warm water.
Throughout the winter months, the club is active on most weekends either paddling at the club or on trips to paddle rivers across the country.
More details and dates for club activities can be found on the events and trips page and also see details about independent paddling.