Halifax Canoe Club is based at Greenup Mill, next to the River Calder in Sowerby Bridge, Halifax.  How to Find Us
Behind this unassuming exterior within the mill complex we have good facilities including changing rooms, showers, somewhere to make tea, and storage for club equipment.
Members can get a key to the club house for a small deposit, and for an annual charge boat storage for members is available – although space is quite limited.
The club also has access to paddle at Halifax Sailing Club at Warley Moor reservoir – find out more.
On the Water Facilities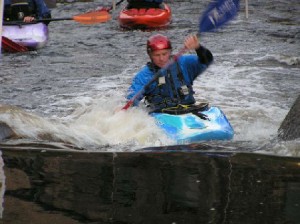 Next to our facilities in the mill we have the white water course, a section of grade 2 pool and drop rapids, which can get up to Grade 3 in high water.
The drops on the course provide good play spots and this is section is used three times a year for slalom competitions. (see White Water Course for a more complete description).
The white water course has slalom training gates and flood lights so can be used throughout the year.
Above County Bridge, we have a long flat water section of river. This is ideal for teaching beginners and is used in coaching session to develop skills, play games etc. There are also some flat water slalom training gates just above Country Bridge.
About ½ a mile above County Bridge there is Puzzle Weir, which provides an easy slide or tricky stopper depending on the water levels.  (Note: currently this weir is collapsing and at low levels all the water is channelling into the collapsed section which is full of dangerous debris) Just below Puzzle weir there is a short easy rapid that provides a good place for introducing white water skills.
It is also possible to paddle on the Rochdale Canal and Calder & Hebble Navigation which meet in Sowerby Bridge. These allow 'out and back' trips on the river and canal in either upstream or downstream of the club. However it should be noted that that there are potentially dangerous weirs (at certain water levels) on the river both upstream and downstream of the club
Access and details for the white water course and River Calder and local canals.