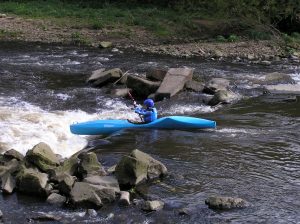 Wild Water Racing
This is straight down river racing, but don't be fooled -it still takes skill to select and stay on the fastest line and avoid rocks and eddies that will slow you down.
Canoe Polo
water polo in boats! Combines paddling and ball handling skills within an exciting contact team game where tactical, positional play and teamwork are essential – played in a pool or outside.   See www.canoepolo.org.uk
Flat Water Racing
Spring racing is an Olympic sport. Sprints offer head to head racing over 200m, 500m and 1000m distances in single, double or 4 person boats.
As you'd expect, marathon is long distance racing. Novices usually start racing over about 4 miles, the races get longer as you get more experienced!  Some are endurance events like the 125 mile Devises – Westminster race or the 90 mile Cheshire Ring Race. See Sprint racing or Marathon.
Surfing
Head to beach and rip it up on the waves. You can use your river boat or play boat to have a go but the expert use specialise surf boats or surf ski's.  See Surf paddling.
BCU Lifeguards
BCU lifeguards provide safety cover at various paddling and water sports events and offer additional safety training for interested paddlers. See www.bculifeguards.org.uk