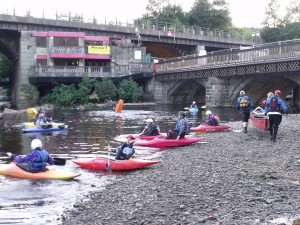 Regular paddlers are encouraged to join the club to benefit full from our facilities, our equipment and the range of activities available to members. Fees are kept as low as possible and simply cover the running expenses and maintenance of our facilities.
Annual Membership fees and boat storage charges are due in April each year. Membership renewal reminders are sent out to existing members in March.
Annual membership is available from April.
Membership fees for the year (2018/19) are as follows:
Full Membership
£47.50 British Canoeing Member or £49.70 Non-British Canoeing Member
Junior Membership (Under 18)    
Family (Parents/Guardians & their Children under 18)      
£77.50 if all adult members (max 2) included are British Canoeing Members
£79.70 if membership includes 1 Non-British Canoeing adult
£81.90 if membership includes 2 Non-British Canoeing adults
Consessions (Long term unemployed and Students 18+in full time education)
£35 British Canoeing Member / £37.20 Non British Canoeing Member
Boat storage at the club house is also available to club members at £35 per boat per year, subject to available spaces.
For more information about membership contact us
There is also some information that members should be aware of – see the details here.