As a club we want to get more people paddling more often, and we need more volunteers to join our dedicated team of coaches, leaders and activity assistants to help us do that.
Please have a think about whether you could get involved and help us run activities for members.
Interested? Read on and get in touch.
What roles are we looking to recruit to: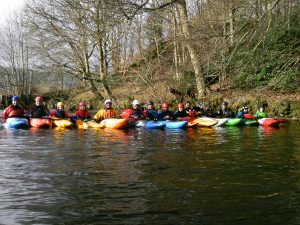 Club Activity Assistants
This is a club sign off for competent paddlers to assist our coaches on coached sessions on the club's Home Waters, and run some sessions for competent paddlers. So this is an easy way to get involved and see coaching is something you want to do.
People taking on these roles will need some safety and group management skills, understand paddler's needs, and be able to organise simple sessions and activities.  The training for these roles is quite flexible, and depends on your existing experience.  All the training needed can be done through the club and you'll be supported through training and as you start to help on sessions working alongside experienced coaches and volunteers.
New Coaches
As well as activity assistants, we are also looking for more people to come forward and become Qualifed Coaches.  This will increase out pool of coaches and ensure we can continue to introduce more people to canoeing and develop the skills of existing members.
Becoming a coach is a more formal process and there are a couple of options available:
Coach Award – This is aimed at those who will be running progressive coaching sessions for a group – so is the most relevant for club coaches. This involves completing a 2 day Core Training which is common to all disciplines of the sport, and then a 2 day discipline specific training. There are 18 different disciplines to choose from, but most of our club coaches will initially do the Shelter Water Coach training.  You will then develop your coaching skills and experience on session before going on to do an assessment. There is no set pre-requisite regarding you own paddling ability – although you will need to have competent personal skills to be able to coach effectively.
Paddlesport Instructor – This is aimed at those running one of sessions in various boats (kayak, canoe, SUP).  You need to complete the Foundation Safety & Rescue Training, then complete a 2 day Paddlesport Instructor course.
The club will help fund the cost of these training courses for anyone willing to help with club sessions, and can provide support and mentoring as you start to get involved in delivering coaching session.
What's in it for you?
Coaching and leading activities allows you to develop you paddling skills in a new direction, giving you a better understanding of and improving your own skills. It is also very satisfying and rewarding to be able to help other people enjoy your sport. You'll also develop and improve communication skills, leadership and teamwork, and be an important part of the continuing success of our wonderful club.  It can also be the route into working in the outdoors full-time or on a casual basis.
If you are interested in one of these roles and would like to develop your paddling in this direction, or just want to know more please speak to Les Ford or call him on 07786525912