We may be Club of the Year, but we want to better! And we want to get more people paddling more often, and we need more volunteers to help us do that by leading and coaching activity.
Club Activity Assistants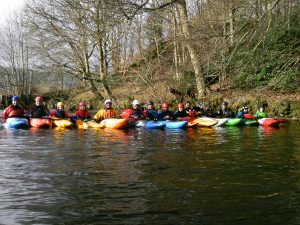 To help us do that we are introducing a Club Activity Assistant Scheme in the New Year. This is a new programme from British Canoeing that enables us to sign off volunteers in various roles to support club activities on our home water.
People taking on these roles will need some safety and group management skills, understand paddler's needs, and be able to organise simple sessions and activities. There will also be some additional skills that will be specific to each role.  The training for these roles is quite flexible as we will tailor it to the role and each volunteer's experience, but you'll be supported through training and as you start to run sessions.
Roles we are looking to introduce for Club Activity Assistants are:
Coaching Assistant
Paddlefit Leader
Home Water Trip Assistant
Slalom Assistant
Dry Training Assistant
Meeter & Greeter
Pool Assistant
Some more provisional details on what these roles might involve is available here. Please have a think about whether you could get involved and help us run activities for members.
New Level 1 Coaches
As well as activity assistants, we are also looking for more people to come forward and become Level 1 Coaches to increase out pool of coaches and ensure we can continue to introduce more people to canoeing and develop the skills of existing members. Becoming a coach is a more formal process involved holding the Two Star Award and completing the Foundation Safety & Rescue Training. You will then go on to do the Level 1 coach course. This will enable you to lead coached sessions at the club. The club will help fund the cost of this training for anyone willing to help with club sessions, and can provide support and mentoring as you start to get involved in delivering coaching session.
What's in it for you?
Coaching and leading activities allows you to develop you paddling skills in a new direction, giving you a better understanding of and improving your own skills. It is also very satisfying and rewarding to be able to help other people enjoy your sport. You'll also develop and improve communication skills, leadership and teamwork, and be an important part of the continuing success of our wonderful club.
If you are interested in one of these roles and would like to develop your paddling in this direction, or just want to know more please speak to:
Come and find out more: We are also be holding an evening on Tuesday 24th January, 7:15pm (at the Foundary, Sowerby Bridge – formerly the works) where you can come along and find out more about all these roles, what they involve, whether it is for you, and how the sign off and training works, as well as discussing which might be best for you and how to get started.