Updated 2 April:
As you know in response to the Government and British Canoeing advice on Coronavirus outbreak club activities have been suspended until at least 31st May.
We now bring you our 'Virtual' Membership Night ! (ok it's not just one night, but you get the idea)
Club Memberships and boat storage fees are due for renewal on 1st April.
You can renew or take out membership using our Webcollect membership system, existing members will have had a reminder email.  When you do this you will need to check the details for each person the membership cover (or complete any missing details for each person).
Please renew your membership now.
We understand that finances may difficult during the current situation, and renewing memberships may not be a priority.  We are able to spread membership payments for members with financial difficulties – please contact us to discuss your circumstances.
We are still hoping to be able to run some river sessions over the summer – but we don't know when this will be at the moment. We will update our website as and when the situation improves.
Summer River Sessions – what's available? 
Nothing at the moment – below is what we hope to run at some point as an indication of what the club provides.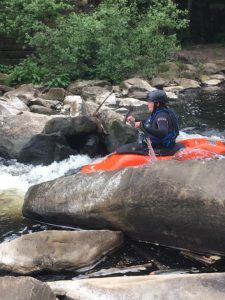 We'll be running sessions in two 6-week blocks which will take us up to the start of the school summer holidays. After that we'll be offering a range of skills sessions through late July, August and into early September.
River Sessions Block 1
Most sessions will start in week commencing 4th May  and all will run until 11th June (we will confirm the start date to those booked on). Spaces on each session is limited due to the number of coaches and equipment available.
What sessions will be running:
Mondays:
Adults Learn to Paddle course – for those aged 14+ that are new to the sport and want to learn to kayak.
Adult Intermediate Coached session – for those age 14+ that have completed a Learn to Paddle course with the club and are looking to progress their skills further.
Tuesdays:
Start Slalom sessions – an opportunity for paddlers of all ages to develop their all-round paddling skills by training for and going slalom racing. Open to those that are comfortable on our white water and wanting to try slalom training and racing
Junior and Senior Slalom training – for existing slalom paddlers wanting to train regularly and committed to racing regularly throughout the season.
Wednesdays:
Club Night – for intermediate paddlers who just want to meet up and paddle. There will be club coaches running the session to look after you and offer tips and advice if you need it, but its not a structured coaching programme.
Thursdays:
Adults Learn to Paddle course – for those aged 14+ that are new to the sport and want to learn to kayak.
Intermediate Coached Session – for those that have completed a Learn to Paddle course with the club and are looking to progress their skills further. This session is open to all ages.
Junior 'Learn to Paddle' course – this will run in the second block of river sessions when the weather should be warmer and the nights are lighter (on a Thursday evening). Email info@halifaxcanoe.org.uk to register your child's interest in these
How to book onto sessions:
Coached Sessions – only existing members are able to view and book on to these.  So first renew your membership (or if you are a new member buy your membership) through our Webcollect membership system. You'll then be able to see the session and book the place(s) you want.
'Learn to Paddle' courses – these are listed on our events list.  Select the course you want to do and book the number of places you need.  You will then go through our online checkout..  We'll check and confirm your booking as well as adding the relevant membership to your account.  You'll get an email confirming your place and with details of how to pay for your membership.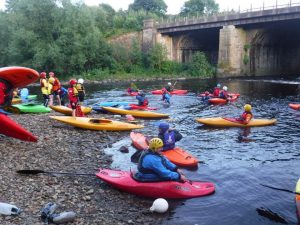 River sessions Block 2
These are expected to run from week commencing 15th June through to the end of July.  These will include sessions as above and an extra 'Learn to Paddle' course starting for new paddlers.
Full details and how to book/transfer from the block 1 session will be sent out closer to the start these sessions.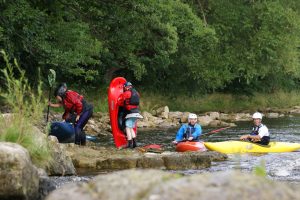 Skills Sessions
This is a new idea to offer drop in sessions on various skills and activities over the summer months. We know with summer holidays members struggle to commit to a block of sessions during this time, so the idea is you can simply sign up and come along to the sessions that interest you or that fit with how you want to develop your skills. Hopefully sessions will run a number of times during the period to ensure you have the opportunity to join them even if you are away for one session.
We'll put out a full list of these in the run up to these sessions and you'll be able to book on through our membership system.  If you have anything you want to try or develop let us know by emailing coaching@halifaxcanoe.org.uk.