Despite being an inland club we have a group of 12-15 independent sea kayakers who regularly paddle at the coast, on lakes, join symposiums or undertake multi-day expeditions.
After struggling to find clean, cheap, local, open water to practice sea kayak skills the club has approached Halifax Sailing Club who are keen to see the reservoir being used by other groups. A meeting was arranged between ourselves and their committee where we both outlined what our expectations and paddling needs would be to form an affiliation and both parties came away very much in agreement.  At the time, the works to the reservoir wall were expected to be completed in April but due to this being 2020, work stopped for a few weeks in March.
The reservoir will be an amazing facility for all club members to take advantage of the open water for not only sea kayak coaching but open canoes, canoe/kayak sailing, taster sessions, rolling, team building, assessments, socialising and storage.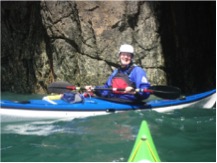 Sea Kayaking Progress since our AGM
With the growing interest in sea kayaking in the club the committee has created a Sea Kayaking officer to promote and develop this area of paddling, including our use of the sailing club site. Judith Forbes has taken on this role.
Work is almost complete and the sailing club reservoir is now starting to fill, although it will be a few weeks yet before it will be available for sailing or paddling. And
Les and Chris have been working on the Health & Safety, Risk Assessment and club policies ready to start paddling as soon as possible. We are just finalising our 'Corporate membership' of the sailing club to allow our members to use there site.
We have agreed that we can site a 20ft steel container to store boats and kit. Space will be mainly for club use, but there may be room for private boat storage.  We already have 2 second-hand plastic sea kayaks and are looking into getting grants to buy additional sea kayaks to introduce more people to this type of paddlng.
In addition to the VHF radios and flares bought last year for sea kayaking, we will be looking to get extra buoyancy aids, paddles and spray decks to be stored at the sailing club..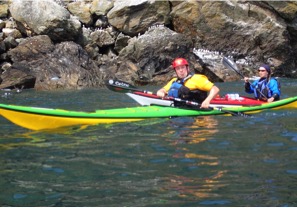 The three sea kayak trips of Introduction (June), Intro-mediate (April) and Intermediate/Advanced (May), arranged by Chris & Liane Hickling with Eila Wilkinson in Anglesey had to be cancelled due to Covid_19 and will be re-arranged as and when restriction ease enough to allow these. It's not the first time that trips have been arranged, some of our white-water paddlers enjoyed a weekend paddling on the Menai Straits last year and the West coast of Anglesey in 2018.
Before organising club trips to the coast, open crossings or circumnavigations we will need leaders and coaches to complete the Sea kayak disciplines qualifications. The club are happy to support any interested members to progress through these qualifications.
If you have any questions or suggestions about developing this area of activity please contact Judith Forbes, by emailing seakayak@halifaxcanoe.org.uk
Many thanks and stay safe,
Jude