Several years ago Puzzle Weir (also know as Hollins Mill Weir) started to collapse.  Floods and high water have furthered the collapse of the face of the weir since and at times it does appear attractive to paddle.
Recently we have been looking at the weir and whether it remained a hazard or not as some work had been done to remove debris from the chute. However, our most recent investigation (Nov 2019) highlights the weir is continuing to collapse and more debris is present.
The photo below shows that the hole in the weir is widening at a rapid rate but what it doesn't show is the following:
On river Right at the top of the entrance chute , a horseshoe shaped collapse , approx 1 metre in diameter has appeared.
On river Left the whole length of the stonework is becoming undercut and the water is eroding the weir wall from below.
We feel it is now a genuine cause for concern with numerous jagged stone pillars, wooden sleepers and (we assume) hidden steelwork. Depending on the river level these hazards are not always obvious. But we feel this makes the weir seriously dangerous at the moment.
Please approach with caution and egress on to the right bank above the weir to inspect and portage. The club's Risk Assessment continues to be for this weir to be portaged on club activities. We'll continue to monitor this collapse to see what winter river levels do to the weir.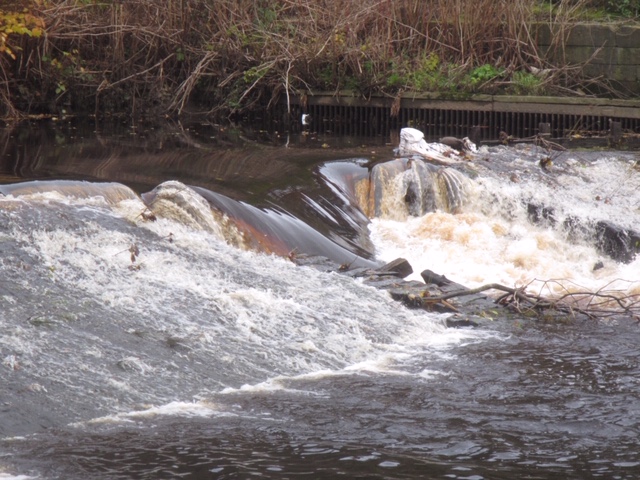 Which Weir is this?
Heading upstream from the club this is the first weir you come to. If you are paddling downstream towards the club, this is the weir after the 'double weir' and it is recognised as you approach it by the weir extending out from the right bank as the river makes a 90 degree bend to the right over the weir.
Below: Photo from Nov 2016 for comparison