Halifax Canoe Club recently ran a paddling taster session for Blackdog Outdoors, a group using outdoor activities to promote and improve mental health
The forecast wasn't great for Sunday 15th March. Covid-19 was just emerging in the country, but 'lockdowns' and 'social distancing' weren't yet a thing.   So the event went ahead with a good supply of positivity and antibacterial gel.
A quick briefing at 9:30 was followed by the arrival of the 9 participants and 2 leaders from Blackdog, having travelled from who had travelled from Hereford, Manchester, Morpeth and various other places. They were welcomed by Steve Davison, Cliff Speight, Al Benson, James Gray, Steve Smith, Judith Forbes, Ian Forbes, Bob and Stan Lawler.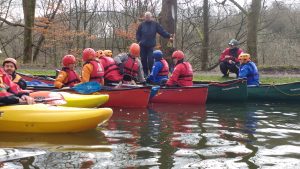 Once kitted up in BA's, cags and helmets we went through the usual safety procedures, put the open boats on wheels and trundled off to the canal.
With various levels of ability we slowly made our way towards Luddenden Foot, grouping together for chats and tips on techniques along the way. Bob and Stan provided the wave factor by scooting around in the Topo. The only blip being a fallen tree across the canal, but with a sling, penknives and a tree saw our support team soon made a way through.
The weather alternated between sunny and rain with the odd gust to keep everyone on pointe and we stopped for our packed lunches along the towpath.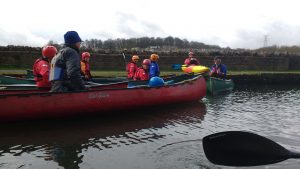 We pressed on a bit further to the Brandy Wine pub and walked to the river with the intention of a lesson in how to interpret the rapids – but it was too smooth due to being in flood.
A swift return to the clubhouse and the clients, now feeling confident, improvised their own races and sabotage tactics.
More chatting, drinks and cake saw us through to 4pm when everyone departed happy and with a Paddlesport Start certificate to encourage them on their paddling journey.
Many thanks to club members for supporting this successful event. It looks like it will be the first and last Blackdog paddle for some time as the other proposed events at Killington and Bala have been postponed due the virus