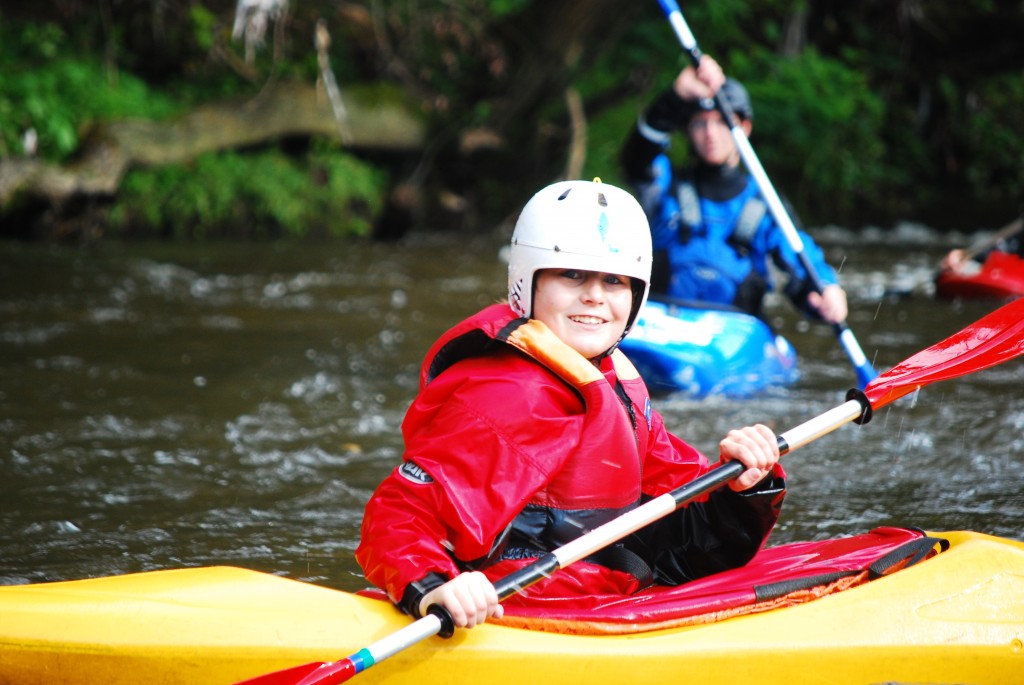 As a club we want to encourage and support people to get to a level where they feel confident to paddle in a group, without a coach.  While we have a fantastic dedicated coaching team, there is a limit to the hours they can give, and big part of the fun of paddling is being able to start having your own adventures.
And to be clear, Independent paddling means in a group without a coach – not paddling on your own!
Before you load up boats and head off, there are some key things you need:
Be competent for the level of water you are wanting tackle (i.e. able to paddle it and roll /exit your boat if the worst happens) also in this is know what kit to wear / take with you.
Be able to help others in the group if they have a problem (eg get them to the side safely, rescue them / their boat).
Know what hazards you may face and how to minimise the risks.
Know where to get information on where to paddle and be able to manage the logistics of a trip.
Much of this will come through our coached session and led trips. But our 'Home Waters' are a great place to start taking your first steps on your own.
What are our Home Waters? This is the river from below the double weir upstream of the club down to the club get out steps, and the canal from Mytholmroyd to Salter Hebble – there is a map on the club notice board and Website.
The Club's River Conditions Policy  – set out what club activities can take place on club Home Waters at different river levels. Importantly, it also sets out guidance for those wanting to paddle in a group outside of coaches session / club activities and when you can and can't use club equipment for this.
So a first step is to have a read of the River Conditions information and also the Home Waters Risk Assessment our coaches work to for club sessions. Both can be found on the website (Policies section or on the notice board in the club. The recommended paddler experience is set against the BC Star Awards – that doesn't mean you have to hold the award just that that is the level of skill/experience recommended. If you need help understanding these or knowing where you experience fits speak to one of our coaches or Les Ford (Coaching Officer).
If you are wanting to head off and paddle elsewhere that isn't covered in this policy, but our coaches will be able to give you advice. If you want to borrow club equipment to use away from 'Home Waters' you need to arrange it with our Equipment Officer before doing so (see the Equipment Policy for more details).
Here are some examples to highlight what you could do on 'Home Waters' (you may want to refer to the River Conditions information about river levels when reading these too):
I've a done a beginners course, and we went down the white water course a few times.  It's great that you enthusiastic, but you probably need more experience yet through coached sessions/activities. If you have covered rescuing other people and their boats on flat water then exploring the canal may be an option – The coach that ran you beginner course will be able to advise on your next step.
I paddled with the intermediate adult group over the summer, I'm happy on the white water course in 'green' river levels.  So long as you are competent getting yourself out of your boat and helping rescue other people and their kit, explore the flat water and the white water. Be sure you know what green river levels means and if it's higher you should look to be with an appropriately qualified coach.
I'm 14 and happy paddling the white water course in 'Amber' river levels.  Sorry, you need to be paddling in a group with an appropriately qualified coach, or under the supervision of your parent / guardian.
I'm 17 and want to paddle on the white water course with friends. Those who are 16 and over, but not yet 18 can be signed off by the Coaching Officer and your parents/guardian to paddle with other competent paddlers on 'Home Water' at 'green' river levels under the club's Young Persons Paddling policy. Basically you need to show you are competent on the white water, can rescue other people and understand the risk and river level information. You still need to make sure your parents know you will be paddling each time you are at the club. if the river is Amber level or above, you still need to under the supervision of an appropriately qualified coach or your parent/guardian.
I want to paddle on Derwent water with the family when we are on holiday.  These policies only refer to 'Home Waters' by the club, speak to a coach about what you need to the about if you want to do this. If you want to borrow club equipment speak to the Equipment Officer to see if it is available.
Remember – ultimately the decision to paddle or not in any particular water level is your decision. We can provide advice and guidance to help you, as well as give you information on safety and rescue through coaching sessions to help you know the hazards and risks and how to manage these, but outside of coached sessions it is your responsibility to keep yourself safe. If in doubt ask advice from one of our coaches or our Coaching Officer.